Australian College of Sports Physicians
On October 20th 1985 a group of sports medicine doctors held a meeting at Cumberlamd College in Sydney. At that historic meeting it was decided to form the Australian College of Sports Physicians with the aim of developing a specialty in sports medicine in Australia.
The following doctors attended that first meeting:
Russell Aboud, Peter Brukner, Grace Bryant, David Collinson, Kieran Fallon, Joe Ferris, Peter Fricker, Peter Fuller, Nathan Gibbs, Peter Hannaford, Hugh Hazard, John Kellet, Peter Larkins, Steve Rudzki, Jeff Steinweg, Jeni Saunders, Stuart Watson, Bill Webb, Stephen Wilson
The inaugural officebearers were elected:
President : Vince Higgins
Vice-President : Peter Fuller
Secretary : Jeff Steinweg
Treasurer : Peter Hannaford
Censor-in-Chief : Stuart Watson
Education Officer : Peter Hannaford
Publicity Officer : Peter Brukner
Over the next few years an enormous amount of work was done to establish th eCollege – writing the curriculum, developing the training program and establishing the examination processes. There were no "grandfather" fellowships and all College members deemd to sufficient seniority were invited to sit the first Fellowship examination, consisting of two written papers followed a month later by a clinical examination. The papers were set by Censor in Chief Dr Ken Maguire.
The results were pubished in The Australian on May 2, 1991
The inaugural Fellowships were presented at a formal dinner held at the Hyatt Hotel, Canberra in conjunction with the Annual Conference in October 1991.
The first ACSP trainees or registrars commenced in 1992.
ACSP Presidents
1985 – 1988 Vince Higgins
1988 – 1990 Stuart Watson
1990 – 1992 Peter Brukner
1992 – 1994 Ken Crichton
1994 – 1996 Peter Fricker
1996 – 1998 Jeff Steinweg
1998 – 2000 Peter Brukner*
2000 – 2002 Jeff Steinweg*
2002 – 2004 Paul McCrory
2004 – 2006 David Humphries
2006 – 2008 Chris Milne
2008 – 2010 Andrew Garnham
2010 – 2012 David Hughes
Both Jeff Steinweg (below) and myself had two 2 year terms as President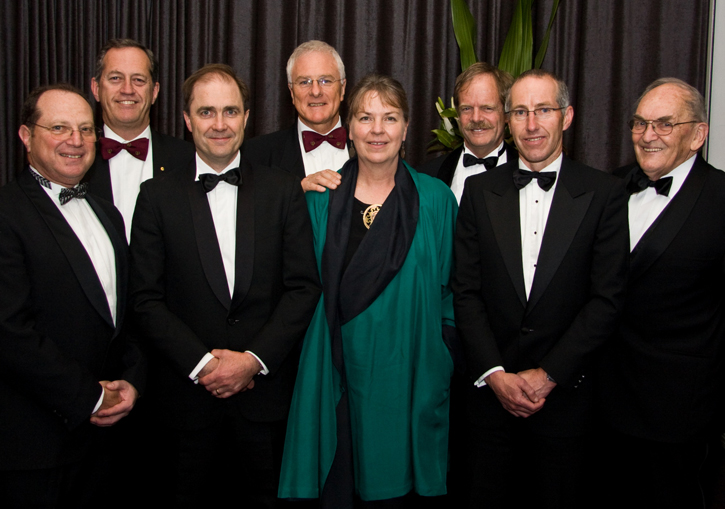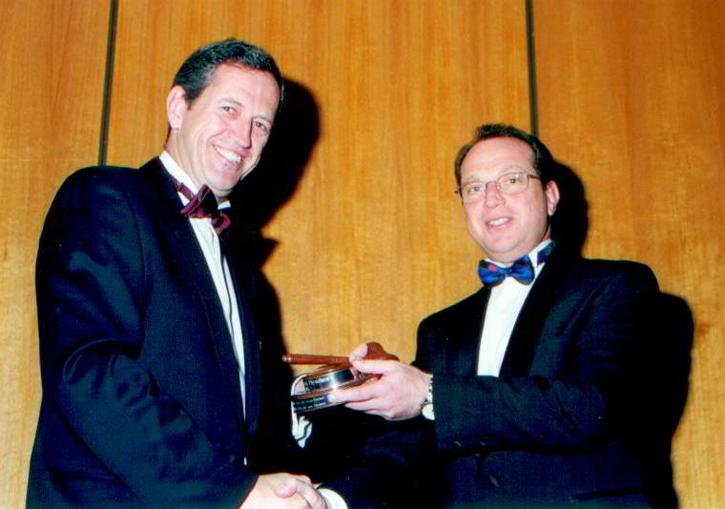 Our Annual Conferences were always a great mix of high quality research, excellent clinical presentations and an enjoyable social program. Keynote speakers were invariable highly regarded international sports physicians.
Citation for Distinguished Service
I was honored to be presented with the College's Citation for Distinguished Service in 1996
The Citation for Distinguished Service is the College's highest honor and has only been awarded six times
1994 Stuart Watson
1996 Peter Brukner
2006 Ken Crichton
2006 Jeff Steinweg
2006 Mel Cusi
2007 Vince Higgins
Journal
After lengthy discussions with Gordon Matheson, editor of the Journal of Canadian Association of Sports Medicine, the ACSP was invited to join the journal which would now become the Clinical Journal of Sport Medicine.
The journal has been extremely successful and I was honored to be the Senior Associate Editor from 1992 to 2004.
Specialist Recognition
The College's attempts to obtain Specialist Recognition for Sports Medicine proved to be long and frustrating. The constant changes to the mechanism for recognition were extremely frustrating, but finally the government put in place a process governed by the Australian Medical Council (AMC) and the College was able to make a formal submission.
Finally, in November 2009 the Hon Nicola Roxon MP, Minister for Health and Aging, announced that ACSP has been successful in achieving recognition of Sport and Exercise Medicine as a new medical specialty in Australia. As a result, Sport and Exercise Medicine is now included in the Australian Medical Council's List of Australian Recognised Medical Specialties
Positions I have held in ACSP
Foundation Member 1985
Executive Member 1985 – 2000
President 1991 – 1992, 1999 – 2000
Vice-President 1997 – 1998
Board of Censors 1985 – 1996
Censor-in-Chief 1993 – 1995
Conference Director, ACSP First Annual Conference, Melbourne 1986
National Education Officer 1985 – 1990
Editor, ACSP Newsletter 1987 – 1990
Conference Director, ACSP Fifth Annual Conference, Melbourne 1990
Organising Committee, ACSP Eighth Annual Conference 1993