I have always loved Sport so it was probably inevitable that I would end up working with Professional Sporting Teams. For info and stories see below:
HOW IT ALL BEGAN:
Professional – AFL
Melbourne 1987-90
I was club doctor at Melbourne Football Club for four years from 1987 to 1990. Melbourne had not played in finals since their last premiership in 1964, but after a dramatic final round Melbourne scraped into the finals. Two huge wins in the first two weeks of the finals saw a confident Melbourne take on Hawthorn at VFL Park in the Preliminary Final. That game is still one of the most talked about games in VFL/AFL history with the Demons managing to lose from a seemingly unbeatable position with the final nail being Jimmy Stynes famously running over the mark and conceding a penalty from which Hawthorn kicked the winning goal.
The next season 1988 Melbourne went one better and made the Grand Final only to come up against an awesome Hawthorn team. Our only claim to fame that day was to be part of a record losing margin – a record we held until Port Adelaide took it off us in 2007.
In the following two years 1989 and 1990, Melbourne continued to pay finals but failed to get a premiership. I am convinced that if we had won that Prelim Final in 1987 Melbourne would have another premiership instead of having now a 48 year drought.
Collingwood 1996
I was asked to review the Collingwood medical set up and brought in a team from OPSMC which still has the Collingwood contract today. Due to my Olympic commitments later in the year my main job was to establish the new team.
NATIONAL TEAMS
Swimming
1986 World Championships Madrid
My first national swim team appointment was to the 1986 World Championships in Madrid. This was unfortunate timing as the titles were held three weeks after the Commonwealth Games in Edinburgh. Our swimmers struggled to peak twice in a month and failed to get a medal. The meet was dominated by the drug-fueled East Germans who were at the height of their powers.
1987 Pan Pacific Championships Brisbane

The Pan Pacs the following year in Brisbane was a much more successful event for Australia.
My favorite swimmer Nicole Livingstone won Gold in both 100 and 200m backstroke events. I had a lot to do with Nicole throughout her stellar career from the time her lovely mother Elsie first brought Nic in to see me when I was in general practice in McKinnon when she was 13.It is great to see her doing so well in her hosting and commentary TV roles these days.
Athletics
I was national team doctor for Athletics from 1991 to 1997 then took over as overall Team Manager from 1998 to 2000.
My first National team was the 1991 World Championships in Tokyo.
1991 Tokyo
The highlight of the Tokyo World Champs was the most amazing long jump final in athletics history when Carl Lewis and Mike Powell took in in turns to break the oldest world record in the books, Bob Beamon's amazing jump at altitude in Mexico in 1968. Powell eventually won with a leap of 8.95
1995 Gothenburg
Australia did a little better in the 1995 World Champs in Gothenburg, Sweden.
We won two relay medals both probably surprise results.
Silver
Mens 4×100 relay Henderson, Jackson, Brimacombe, Marsh
Bronze
Womens 4×400 relay Naylor, Poetschka, Gainsford-Taylor, Freeman
OLYMPIC GAMES ATLANTA 1996
My first Olympics as a team member was Atlanta 1996. I was initially appointed as team doctor and then closer to the Games I was asked if I would also fill the role as Assistant Team Manager to my good friend Margaret Mahoney. It certainly made for a busy time both at our pre-Olympic camp in North Carolina and then once we got to the village. The camp was complicated by the announcement of a positive drug test for Dean Capobianco who was in camp with us so that caused all sorts of problems. Eventally Dean was able to compete but it was a stressful time.
The highlights for me were:
I spent 1997 traveling overseas with the family so missed the World Champs in Athens that year.
Commonwealth Games Kuala Lumpur 1998
Back in Australia in 1998 I was assistant manager of the Athletics team for the Commonwealth Games in Kuala Lumpur. I had decided that management was my role for the few years and my friend Chris Bradshaw came in as team doctor.
Australia had a pretty good Games winning 13 golds in athletics
Highlights included the upset win by Nova Peris in the women's 200 when it looked certain that Melinda Gainsford would win until she broke down close to the finish. Then we won both women's relays even without Mel. Speaking of upsets, the women's marathon win to Heather Turland was certainly a pleasant surprise while it was great to see Kate Anderson win the women's 5000.
1999 World Championships Seville
With the Sydney Olympic only 12 months away the Seville World Champs was an important stepping stone. This time I was Team Manager.
Our only gold medal was Cathy in the 400m. Didn't win by much but she got there.
Our two former Russian pole vaulters Dimitri and Tatiana both got medals as did Kerry Saxby in the walk. Kerry was always great to have in a team and it was a real thrill when she won her medal.
Gold
Cathy Freeman 400m
Silver
Dimitri Markov Pole vault
Bronze
Kerry Saxby-Junna 20km walk
Tatiana Gregorieva Pole vault
SYDNEY 2000
2000 was a pretty exciting year. I had been appointed Team Manager for the Athletics team , the largest component of the Australian Olympic team. We spent a couple of years planning, meeting every week at Athletics Australia headquarters in Melburne. We had a great planning team. Chrs (Rab) wardlaw was Head Coach and it was a gret pleasure working wth rab over those couple of years. The AA High Performance Manager was Lawrie woodman and Games time lawrie double up as one o fmy Assistant manager's looking after ther coaches. Brian Roe from AA was incredible knowledgeable and played a major role in the planning for Sydney 2000.
One of the nice things about being on an Australian Olympic tean as an official is that you are regarded by the Australian Olympic Committee as an "Olympian" and invited to all the Olympic functions. As Olympians, we were all invited to run a leg of the torch relay which was a huge thrill for me and my family.
The Australian athletics team consisted of 82 athletes and approximately 30 support staff (coaches, medical, admin). I was fortunate to have three fantastic assistant managers who made my job so much easier. They were Geoff Rowe, Carol Grant and Lawrie Woodman. We spent the three weeks prior the games at a training game in Nudgee, Brisbane, and had a couple of warm up meets at the Brisbane Athletics stadium. I arranged for a number of prominent sportspeople to come and join us for a meal so we had visits from Leigh Matthews, John Eales, John Buchanan among others.
Then it was down to Sydney where we had an induction ceremony and the team blazers were handed out by John Landy. Mark Seymour from Hunters and Collectors joined us for the day and we sang a bastardised version of the Holy Grail as our team song.
We have a tradition in the Australian athletics team that we have a team dinner two nights before the start of the athletics competition. The Sydney dinner was a greet night attended by John Howard and his wife. The PM actually made a really good speech.
The Opening Ceremony was a fantastic night and we were very proud when one of our team members Cathy Freeman lit the Olympic flame
The village was well organised but the rooms were pretty small! Didn't have much time to see the family, but they came and had a look around the village.
Athletics highlights were of course Cathy's gold on what was possible the greatest night of athletics ever. I had the task of looking after Cathy for the few hours after the race taking her through the media, up to Bruce for an interview, down to meet her family, the medal ceremony, then down to drug testing.
The pressure she was under leading up to that race was incredible. I suspect no-one in the history of the Olympics has been under that sort of pressure and all she could say afterwards was "what a relief".
Other highlights were:
Jumping Jai Taurima's silver in the long jump
Tatiana's silver in the women's pole vault "show me the money"
The fabulous Closing ceremony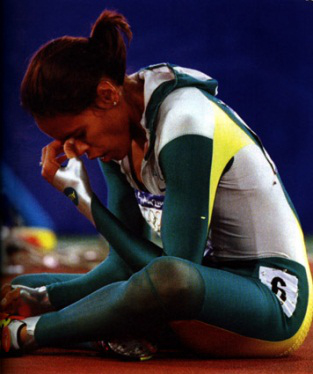 While there are always great moments in the Olympics there are also very sad moments when athletes do not live up to their high expectations
The saddest moment of all was when walker Jane Saville was disqualified as she was about to make a triumphant entry into the stadium leading the womens walk. I was truly at a loss for words to try and console her
Overall it was a fabulous Olympics definitely "the best ever" Australia as the host nation performed very well finishing with 16 gold and a total of 58 medals to finish 4th behind USA, Russia and China in the unofficial medals tally. Not bad for a nation of 20 million!
Hockey
I did a number of tours with the Australian mens hockey team including a European tour to Belgium and Holland in1994, the Sultan Azlah Cup in Malaysia in 1994 and the Oceania Cup in New Zealand in 1995. The Kookaburras were a great group of guys with people like Jay Stacy, David Wansbrough, Lachie Dreher, China Davies, Ash Carey and of course Graham Reid their long suffering physio who became a great friend over the course of my involvement with the national team.
Australian test match record holder Jay Stacy and David Wansbrough
Unfortunately I had to give up my involvement with the national men's hockey team I was appointed Athletics Team Manager after Atlanta and my friend Pete Baquie took over. I was lucky enough to be in the crowd when Australia finally won that elusive hockey gold medal in Athens in 2004.
Soccer
After the Sydney Olympics I decided to "retire" from involvement with national sporting teams and travelling to overseas conferences to spend more time at home with my teenage children.
However when the Socceroo's came calling at the end of 2006 and asked me to become involved in the next World Cup campaign it was not a difficult decision to accept the job. So began a really enjoyable four years as the Socceroo's team doctor culminating in the World Cup finals in South Africa in 2010.
My first trip was for a friendly in London in early 2007.
Asian Cup 2007
The first championship was the Asian Cup finals in July 2007. For the first time in its history, the competition was co-hosted by four nations: Indonesia, Malaysia, Thailand and Vietnam.
Australia has a strong team but struggled to play their best football in the oppressive conditions. We eventually got through the qualifying phase then had to play Japan in a quarter final in Hanoi. It finished 1-1 after extra time despite Vinnie Grella getting a red card, but we lost the penalty shoot out and were therefore eliminated. Iraq went in to win the Championship in a surprising result.
World Cup qualifying campaign
The qualifying campaign for the 2010 World Cup was a real marathon. Australia was seeded through to the third round of qualifying where we played Qatar, Iraq and China both home and away. We topped that group and then went into the final qualifying group with matches again home and away against Japan, Bahrain, Qatar and Uzbekistan. We topped the group going through those eight matches unbeaten and so we were on or way to South Africa.
World Cup finals 2010
We got together in Melbourne for a final friendly game against New Zealand at the MCG and then headed off to South Africa. We initially trained at Sandton just outside Johannesburg then we went to our final camp in the countryside outside Jo'burg – very nice.
Our first World Cup group game was in Durban against Germany and it was a disaster. A 4-0 loss and a harsh red card to Tim Cahill which also ruled him out of the crucial second game against Ghana.
Heads were down and we really had our backs to the wall. In the second game in Rustenburg , we played much better and were unlucky not to win finishing in a 1-1 draw not helped by another red card to Harry Kewell.
Our final group qualifying game was against Serbia. We had to win and make up significant goal difference to make it through to the next round. In our best performance of the World Cup we outplayed Serbia for a 2-1 win with Cahill and Holman scoring. However sadly it was not enough to get through to the next round.
So the World Cup campaign was over for the Socceroos. Very disappointing in the end as we felt we were good enough to get through to the next round. Ultimately the two very harsh red cards killed us.
It was time to say goodbye to the players and staff that I had spent so much time with over the previous four years. Pim and Arnie were great to work with, we had fantastic physio and fitness support staff in Phil Coles, Darren Burgess, Les Gelis and Luke Attwell, and team leader Phil Wolanski, team manager Gary Moretti and kit man Dom Rabsch were a constant source of entertainment!!
My favourite pics and memories below: